MANTA
Marine Materials Devolopment of bio-inspired and sustainable (bio)materials to lower the marine environmental impact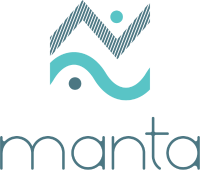 The research flow of MANTA is on the exploration of marine compounds, materials and biomimetics to face current societal problematic related to human health and marine environment degradation.
Oceans are an extraordinary and unexploited sustainable source of natural compounds with specific and very appealing physicochemical, structural and biological properties. Although very promising, a considerable amount of these compounds are still scarcely exploited. In this context, MANTA focuses on blue and red biotechnologies for the development of (bio)materials exploiting both marine origin materials and marine biomimetic approaches. We are establishing methodologies for the extraction of small molecules and biopolymers from marine by-products aiming for their processing as multifunctional porous structures, films, hydrogels and composite materials for cosmetic, biomedical and packaging applications.
The impact of these (bio)materials and/or their metabolites on human health and on aquatic ecosystems is also addressed.
Susana FERNANDES (susana.fernandes @ univ-pau.fr (susana.fernandes @ univ-pau.fr)) is Associate Professor at UPPA (after 2 years at KTH, Sweden as a Marie Curie IE Fellow) where she has set up the chair MANTA. She is also a Guest Researcher at Uppsala University, SE.
She has a 12 years research experience in polymeric materials from renewable resources and blue biotechnology, acquired in recognized academic laboratories in 4 European countries. She has disseminated her work via over 50 articles and book chapters (h-index=23), and over 40 conferences and media appearances.
To make it all possible, she has also won several prestigious awards and prizes totaling €3Million.