BOIS
Biobased Materials
Presentation
These days, the need for new eco-friendly materials and processes for the industry is more than ever of actuality. The main goal of the Chair BOIS is the valorization of the biomass and coproducts of the industry of the Landes region, especially the forest and the agricultural sector.
This valorization will help the industry to minimize the undervalued coproducts by offering them new applications, introducing new transformation processes with green chemistry methods, and moving forward to a green economy.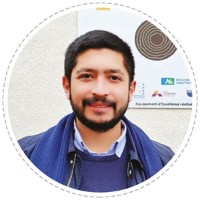 With a previous formation as a Mechanical Engineer, Eduardo Robles (eduardo.robles @ univ-pau.fr) got a Ph.D. at the University of the Basque Country UVP/ EHU in Renewable Materials Engineering.
He focuses his research on lean transformation of biomass and coproducts of the agroindustry. He obtained the Cum Laude and International Doctorate mentions, as well as the extraordinary doctorate prize from UPV/EHU. He has published over 20 scientific articles and book chapters and has presented his work in over 30 international conferences.