AWESOME
Manufacturing of new generation sustainable and thermoplastic composites
The activities of the Chair are based on modelling, engineering, simulation and data analysis, to face an advanced and smart applications that focuses on better exploiting the possibilities offered by composite materials and, in this sense, breaking with what is currently being produced.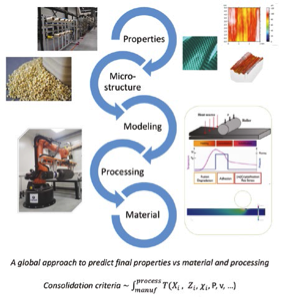 The development of thermoplastic composite materials and their processing is an environmental challenge for the years to come. Indeed, they offer an incredible ratio of mechanical performance to density. Moreover, they can very easily be endowed with particular properties, multiple functionalities, and even gradient properties in a wide range of areas. Finally, they are potentially recyclable which makes them suitable candidates for the future in the fields of energy and mobility.
Quality partners
This Chair offers an unique framework by bringing together quality partners with broad and varied skills in regard to the multi-disciplinary approaches required. Each partner is equipped with innovative and complementary technological platforms and characterizations techniques, going from the matter at its molecular scale, to the constraints of high production rates.
Anais Barasinski
Expert in advanced manufacturing for composite materials, Anais Barasinski received her PhD in 2012 from Ecole Centrale Nantes. She graduated in 2007 from Ecole Normale Supérieure de Cachan, where she was laureate of a French Agregation in Mechanical Engineering.
Her main areas of interest are composite materials, multi-scaled physics, surfaces, modelling, advanced simulation and dialogue between models and experiments.